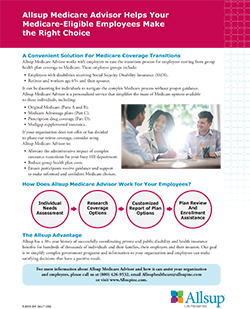 Allsup Medicare Advisor
Guiding your employees from group health plan coverage to Medicare  
Allsup Medicare Advisor, offered by Allsup Inc., provides a comprehensive and convenient solution to coordinating your employees' Medicare coverage. We are not a Medicare plan provider. Allsup Medicare Advisor is a Medicare plan selection service that incorporates a detailed, comparative analysis of plans, a tailor-made report and serves as a trusted resource for employers, financial advisors and seniors. It combines live, one-on-one guidance with the convenience of the Internet.
How Allsup Medicare Advisor Benefits You  
Reduces or eliminates the financial risk of providing healthcare to Medicare-eligible employees
Reduces your administrative burden without sacrificing employee goodwill
Ensures your Medicare-eligible retirees are covered
How Allsup Medicare Advisor Helps Your Medicare-Eligible Employees  
Educates your employees on the Medicare benefits already available to them
Guides employees through the Medicare enrollment process
Helps employees manage out-of-pocket healthcare costs
Reduces employee stress and confusion
Understanding Medicare Options  
Allsup will consult with you to thoroughly understand your organization's needs and those of your employees regarding their transition to Medicare coverage.
By highlighting the three plans in your area most likely to meet your stated needs, Allsup has the foundation to help employees compare coverage and cost across various Medicare plan options.
Contact Allsup Today  
Call us at
(888) 271-1173
,
click here to e-mail us
or complete the short form below for additional information about Allsup Medicare Advisor and how it can benefit your business and your employees.